Our Boilers On Demand Motto is: "SIMPLE, DURABLE, EFFICIENT FHW HEATING ….. PERIOD!". We have achieved this seemingly noble objective by fully integrating Advanced Taco Delta-T ECM Hydronic Distribution Technology into Forced Hot Water (FHW) Heating . The unstated result of our Patented "Neo-Gravity Hydronic (FHW) Heating Appliance(TM)" development is it being highly cost-effective as well. Can we "have it all", so to speak? Let's look at our effort in further detail …..
Hydronic (FHW) Heating to the layman and consumer has always had a certain mystique, evidenced by witnessing a tradesman or plumber configuring a system, piece-by-piece into a seeming maze of piping and components. The results vary from the mundane to aesthetically impressive, but we must realistically note in fact that the hydronic performance of any system is less than ideal. The residential and light commercial heating markets in particular have not had the tools nor the general expertise to optimize a hydronic heating installation. Consequently the end user has suffered with an over-installed, under-performing, energy-consumptive system over its lifetime ….. knowingly or not!
Note: We can't excuse our like personal participation for now sixty (60) years in hydronic heating. Our guilt is shared ….. but no longer!
Now a true "hydronic revolution" is upon us, not yet generally known and even less appreciated, nor applied. Hydronics have thankfully been somewhat forgiving to all of us applying it, but now there's a new day, and a new benchmark.
By explanation, there are three (3) basic elements to hydronic heating: Energy Creation, Distribution and Radiation. Put more simply:
A Hydronic Boiler to create energy by burning a fuel, as efficiently as possible.
Moving (distributing) heated water to points of use with "pipes and pumps" (circulators).
Warming an environment by passing air over hot piping, as simply and effectively as possible.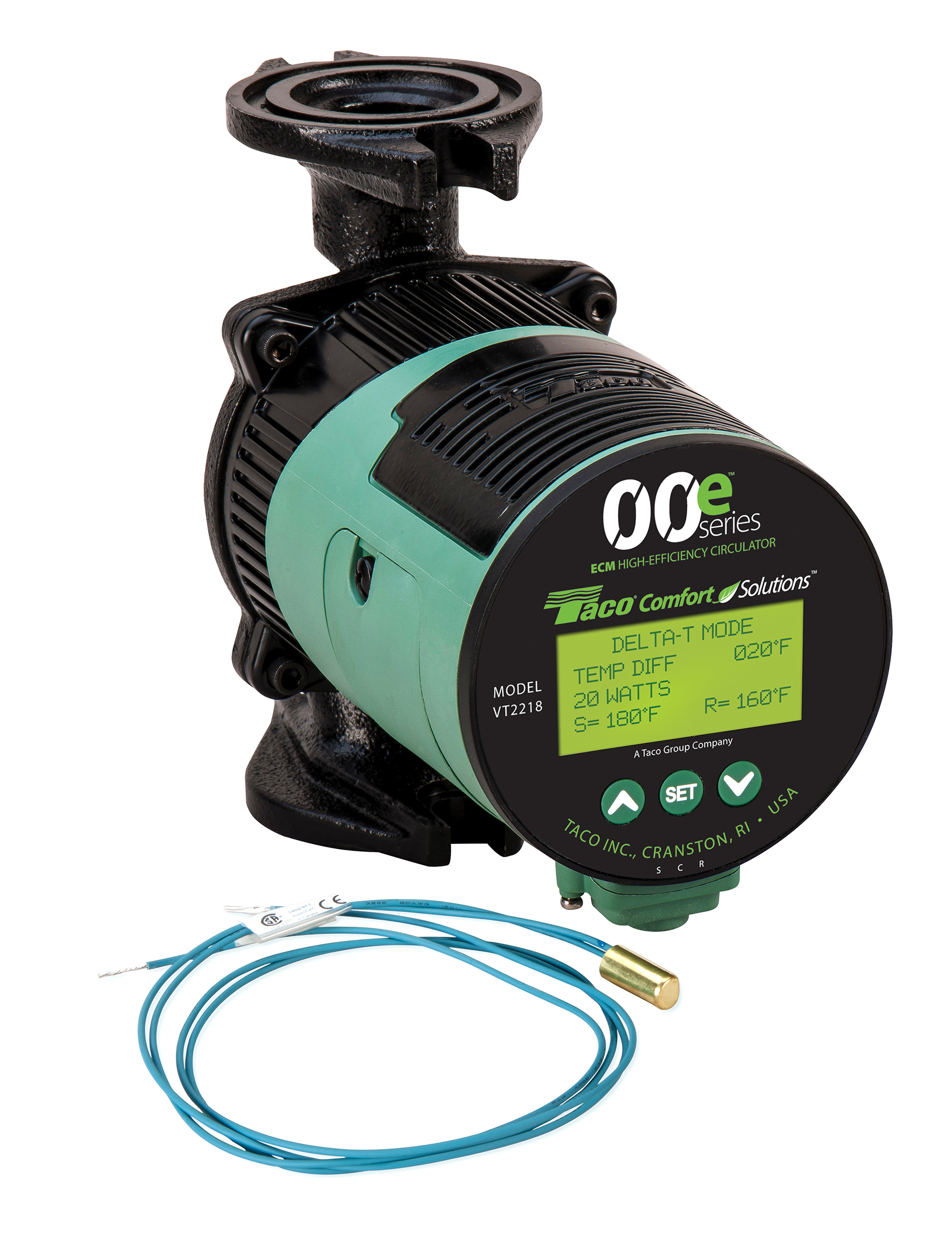 We have progressed quite well in creating and utilizing energy via boilers and radiation, but that is where it has stagnated far too long. Given the limitations of fixed or selectable speed circulators and valving we have managed without addressing the true potential of improving hydronic distribution efficiency to complete the heating equation. The intelligent, variable speed Delta-T ECM Circulator by Taco Comfort Solutions® has changed it all ….. and none too soon!
We have been experimenting with Taco® Variable Speed Delta-T VDT's, "BumbleBees", Viridians and now 00eSiries ECM Circulators for years, utilizing them as direct substitutes for their fixed-speed predecessors. They have worked particularly well as radiant zone circulators as our fellow tradesmen have also discovered. The Taco BumbleBee® in particular has gained trade notoriety both by its appearance and performance. However, our personal technical efforts have gone well beyond the obvious in pursuing a dedicated boiler system circulator application. It has neither been promoted nor seeming anticipated, yet its implications are very significant when achieved.
Utilizing a Delta-T, and in particular an ECM (Electronically Commutated Motor) based circulator as a single, dedicated system hydronic "distributor" offers near-ideal efficiency potential. We slogan it as "putting an 'Automatic Transmission' on a boiler". It greatly simplifies both near-boiler piping and control complexity, but must necessarily possess several operational attributes:
First and foremost is reliability! A dedicated (single) system circulator failure is a potential "show-stopper" after all.
Performance Flexibility. It must adapt to and accommodate all system energy demand patterns with minimal, if any effect.
Accommodate an Indirect Water Heater as a prioritized and an incrementally higher energy demand accessory.
Significantly improve system efficiency and performance while reducing energy requirements, both fuel and electric.
Zone Valves are a necessary compliment to manage individual zone demands when using a single circulator. New generation valving and in particular the Taco Zone Sentry® Valve provide outstanding performance and value with self-diagnostics. The "Zone Sentry" in fact delivers three times the heating capacity of its popular "Heat Motor" predecessor, and uses dramatically less power. Combine these with its physical packaging attributes the "Zone Sentry" provides a unique configuration opportunity further addressed in this writing.
The hydronic distribution function is composed of two elements:
"Near-boiler piping" as generally referred includes circulators, valves, air elimination and expansion devices that prepare and present heated water or "hydronic energy" to points-of-use.
Distribution piping that extends and presents this heated water energy to radiation components.
We offer that considering these two distribution tasks without differentiation or distinction is fundamentally flawed, and yet is standard trade practice. As initially stated, Delta-T Distribution Technology changes this assumption, and dramatically! Consolidating hydronic flow within a single, intelligent system level circulator packaged with complimentary, intelligent zone valves packages into a true, efficient FHW Heating Appliance. Further, "hydronic convection" (gravity heating), the natural attribute of heated water to rise and convect within distribution piping is idealized as well. Witness the need to install "flow-check" valves in conventional systems piping, into circulators or using properly sited zone valves to control convection (gravity) heating. By incorporating natural convection total circulation energy is measurably reduced beyond that of Delta-T. A simple analogy would be "like paddling your canoe with the current, rather than against it".
Hydronic convection performance is at the core of our Proprietary Near Boiler Piping System. Included as a standard, recommended option for idealized system and DHW (domestic hot water) creation efficiency is an Indirect Water Heater (HTP Superstor Series). Close-coupled within our near-boiler piping, its integrated supply architecture becomes a physical, gravity flowing extension of boiler capacity, particularly in circulator fail-mode operation. Yes, we had a "fluke" 1st Generation Taco Viridian® VT2218 failure on our "Beta #3" site that was not discovered for an estimated 2-3 days of heating operation. DHW generation was never affected!
Ideally complimenting our hydronic system is the Weil-McLain UO, the highest-mass boiler for its rated output in the world, extending system energy storage capacity and potential fail-mode convection performance. Its supply and return rear porting compliment near-boiler piping by compactly and efficiently packaging all hydronics within its footprint plus an approximate 1 ft. rear piping and exhausting space. Adding the Indirect Water Heater uses under 12 sq. ft. of combined space, up to 2/3 less than a typical currently installed system while reducing system valving and near-boiler piping by up to 1/2. Integrating with domestic all-steel piping, malleable fittings and brass/bronze valving compose a free-standing system architecture of innately superb strength, chemical resistance and field proven longevity.
Now applying our paralleled "High-Tech" Manufacturing Process expertise to Hydronic Heating, we have modularized, value engineered, methodized and tooled our Delta-T ECM Hydronic Heating Appliance to include several additional components in our Intellectual Property Protection (Patent Pending) Submission. Our cooperating customers on multiple "Beta Sites" are also providing us valuable data to optimize our system design and performance with the goal of providing an unbeatable cost-performance product.
Taco Comfort Solutions® publishes that its Delta-T ECM VT2218 00e Series Circulator provides up to 15% fuel and 85% electrical power reductions in applications. We certainly concur! Our dedicated VT2218 system circulators are using 8-13 Watts in heating maintenance mode. Cold system warmups begin at 25-35 Watts (half the rated power) then reducing toward acclimation temperatures.
At the extreme of our experience is our "Beta #1″ Site upgrade, badly mis-piped with three hidden, seriously undersized 1/2" radiation zone supplies & returns that exhibit high head pressures (obviously). A pre-existing integral IWH is also under-sized piped, adding to delivery issues. Yet, this system cold starts @ 65 Watts, decreases rapidly to 35 Watts, then slowly acclimates to 22-25 Watts running. (A single Taco® 007 draws up to 80 Watts by comparison. It had four operating three heating and the IWH zones.)

Additionally by using the High-Mass Weil-McLain UO Series (Oil) Boiler(s) we see system operating temperatures lowering to 132-140º F, regulated by its integral Hydrolevel 3250+ Hydrostat Aquastat. System demands are readily "cushioned" by the thermal mass provided in the total system architecture. It responded very positively to the prior noted prototype system circulator failure, ramping up system temperature toward maximum with zone duty cycle duration detection & response, maintaining radiation heating in degree. Boiler burner cycles are infrequent and brief, further reducing equipment maintenance levels while extending system operating life.
We have more recently offered the appliance-specific Carlin EZ-PRO Gas (NG&LP) vs. the Beckett NX Oil Burner in the Weil-McLain UO Boiler. Now it's a Universal Hydronic (FHW) Heating Appliance! Change fuels ….. swap the burner only!
Note that Total Heating System Efficiency is the AGGREGATE of Boiler AFUE, Distribution and Radiation Efficiencies! We further claim that the reduced operating system temperatures and hence stand-by losses of the very high mass Weil-McLain UO Boiler further increase overall efficiency. Thus we can confidently claim the highest efficiency heating system available!
System Comparison
"Conventional" FHW Heating System vs. The Delta-T ECM Hydronic System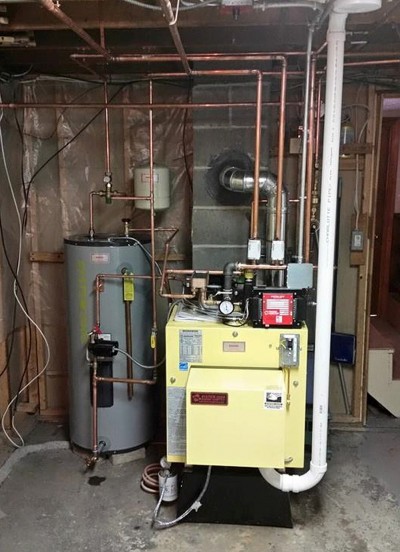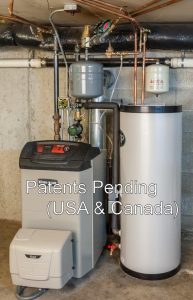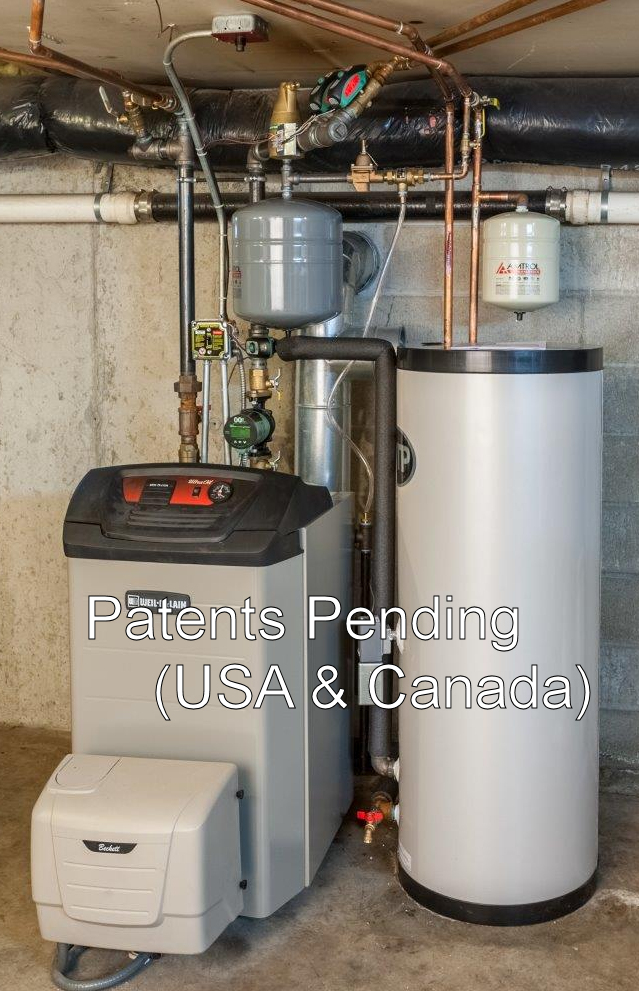 Identically Specified 100KBTUH, 2-Heating Zone + IWH, Oil-Fired Systems
Attribute
"Conventional" System
"Delta-T" System
Comments
Boiler Type
Welded Steel Plate (Example Unit)
Cast Iron "Triple-Pass"
15 years +/- vs. 30 Years +
Boiler Weight
270 Lbs.
625 Lbs.
Very High Mass - Durability
Oil Burner Type
Various Offered
Beckett NX (Pressure-Fired)
Flexible, stable operation
Gas Burner Type
Fixed, Appliance-Specific
Carlin EZ-PRO (NG/LP) (Pressure-Fired)
Appliance-Specific Interchange
Circulation
Multiple Fixed Speed Circulators only
A Delta-T Variable Circulator w/ Intelligent Zone Valves
>/ 15% Fuel Savings
>/ 85% Electrical Savings
Piping/Fittings
Copper (Typically)
All Iron & Cast Construction
Superior Strength/Durability
Indirect Water Heater
Various Mfrs. & Types
All Stainless Steel Only
A Lifetime of Service
Floor Space Utilization
Installer-dependent
Optimized Package Design
Minimum Space Requirement
Energy Performance
Installer-dependent
Optimized Energy Design
Peaked Hydronic Efficiency
Component Sources
U.S./Foreign Mix (Typical)
"All-American" (US/Canada)
Quality and Serviceability
Installed Cost (Oil example shown)
"Over $10,000" (Oil, as shown)
$7,000 (Oil, as shown)
Price, Performance, Value
To Summarize:
Taco® Delta-T ECM Hydronic Distribution changes everything! The "Plumber's Playground" of conventional, inefficient hydronic distribution piping "free expression" is gone as well! We must now look at Hydronic (FHW) Heating in totality, no longer as a an aggregation and assemblage of parts by personal preference. Technology has provided we heating guys with some new working tools. Let's learn how to use and apply them well!
 Author's Note: Updated 03/15/2023