An Indirect Water Heater (IWH) driven by an efficient hydronic boiler is the acknowledged cost-effective method for domestic hot water (DHW) generation. However, installing an IWH as a stand-alone (dumb) heating accessory can limit its potential and in fact reduce your overall annual heating system efficiency (AFUE) in practice. Let's examine the elements comprising a complete hydronic system and their effects.
The Indirect Water Heater (IWH) has experienced a renaissance with the availability and effectiveness of modern materials and manufacturing. Specifically Stainless Steel, Super-Insulation and Automated Manufacture provide a superb product-performance package, eclipsing its predecessors and current competition. Even so they are not "cheap" in a monetary sense, yet provide an outstanding service life while maintaining efficiency!
Referring to our website BoilersOnDemand.com you will note that we integrate an IWH into our "Neo-Gravity Hydronic (FHW) Heating Appliance(TM)" as standard equipment for overall performance. The HTP Superstor Ultra has been our exclusive IWH offering for over twenty years with stellar performance! There are many IWH Products available, even within HTP, but the SSU Series still exceeds.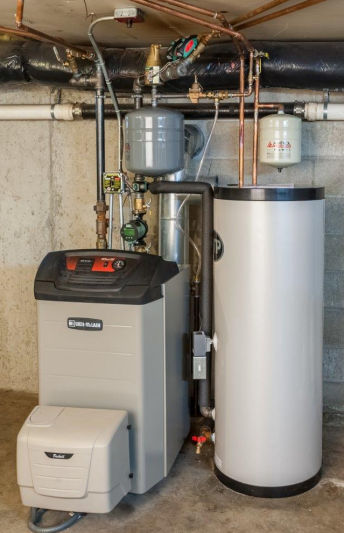 Referring to our "Packaged Delta-T Hydronic FHW Heating Appliance" image provided you will note four (4) basic system components:
As a standard feature on all systems utilizing an IWH as pictured, we provide a SPST (ON/OFF) Switch mounted on and in series with the IHW Aquastat. This allows selective engagement during system set-up, quick start-up, operation and diagnostics. It is visibly evident between the boiler and the IWH, placed for convenience.
Our "System User's Guide" refers to the IWH Selector Switch as a means of customer-inhibited operation with a two-fold purpose:
Cycling only preparatory to demand DHW usage such as a dishwasher or shower(s), then "tailing" hot water via additional tasks to efficiently utilize remaining storage.

Turn off DHW during protracted absences such as vacations, etc. while preserving primary area heating without risk or penalty.
In either sequence boiler temperature is significantly reduced, ultimately approaching area ambient, reducing fuel consumption in the process.
Using our SPST (ON/OFF) Switch as a junction box we also offer to our clients extension via another switch in series to a more convenient operating location. This is particularly helpful when considering site physicals and customer physical impairments or limitations.
Carrying this to the next logical level is using at minimum a 1-Day or preferably a 7-Day Programmer, as may be applicable to your lifestyle. Keep in mind though that an IWH Zone uses a "dry" switch, i.e. no power applied, or you will "fry" something (your system aquastat!). Program your IWH Service to compliment your usage pattern for energy savings.
Then you can proceed into the "wireless", intelligent world via Wi-Fi Thermostats, Home Automation and the like. Like our "techie" customer on a work assignment in Hawaii who called us to advise he had a heating problem in his seasonal home up here in New Hampshire, the world is changing and beneficial technology is available to us all.
By becoming "smart", we can save ourselves a bit of trouble and a little money in the process.
Author's Note: Updated 01/10/2018