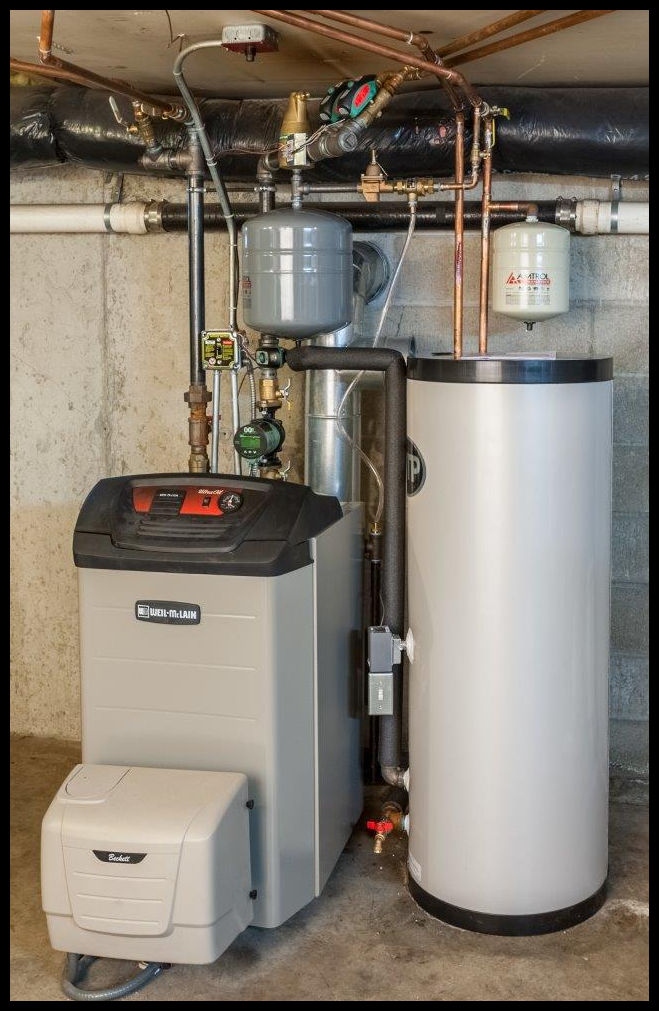 Hydronic (FHW) heating system installations can be likened to creating something with a giant Erector Set™. As a kid, mine came with an electric motor enabling powered cars, airplanes, ferris wheels, etc. Days, weeks and months of childhood imagination and expression ensued. Great memories!
Now as "big kids" hydronic heating system installations offer us a similar fulfillment of free expression. Within the limits of ultimate system functionality hydronic "artists" can seemingly paint their own canvas while getting paid for it! The question logically arises however as to where are the cost benefits of our efforts? We argue that heating guys are indeed losing direction, both technically and functionally. The adage "Old Dogs need to learn New Tricks" comes immediately to mind, regretfully also being one. It's not only our innate trade resistance to change but not to think forward in applying what has preceded us ….. beginning with Physics 101!
Gravity convection was the means of distributing heating water from the Roman Age onward. From the mid-1800's to about 1930 it was "Queen" Gravity Hot Water along with "King" Steam. However gravity hot water systems required large boilers, piping and radiation sizes. They were slow to react, single-zoned and fuel hungry, whether burning wool, coal, oil or whatever.
Introduction of the electric circulating pump changed hot water (hydronic) heating forever. Now multiple zones, rapid response through less intrusive radiation and powered burners do it all very conveniently. Gravity is still there, but we have necessarily learned to control it with flow check valves. Apart from the brief and unsuccessful introduction by American Standard of their "Ash Can" Gravity Boiler System in the late 1950's (our nickname – we were Am-Std Installers back then) FHW has predominated. Circulators began by being placed on the (cooler) returns with flow checks on the (warmer) supplies to control convection. Then circulators moved to the supplies along with the valves. Boilers are now migrating from two-pass to three-pass or condensing types for greater efficiency. That's arguably been it ….. until now!
Enter the Delta-T (differential temperature) sensing and managing, ECM (electronic commutator motor) driven Variable Speed Circulator, specifically the Taco® VT2218-HY1-FC1A01 (Current Model). This latest iteration in Taco® Hydronic Distribution Technology is making its inevitable mark on radiant and other hydronic circuits. Its "smart" capabilities are many however, having five (5) selectable operating modes, but we are focused only upon the "DELTA-T MODE" within its appetizing menu.
We have been experimenting for some years now with Taco®'s prior Delta-T's and the current VT2218 ECM as a dedicated system circulator, beyond that denoted in the Taco VT2218 Product Brochure. During this process we discovered and integrated differential temperature management with natural hydronic convection (gravity) for an optimized design with superlative results, again well beyond those claimed by Taco®. Multiple "Beta Site" installations have provided us with sufficient data and results to seek "Provisional" and now subsequent "Non-Provisional Intelligent Property Protection" on our:
ENHANCED CONVECTION, DIFFERENTIAL TEMPERATURE MANAGED HYDRONIC HEATING APPLIANCE (Patents Pending, USA & Canada)

Quite a mouthful indeed, but place the emphasis on APPLIANCE. You see, delta-t hydronic technology is not merely a "circulator swap" for radiation and energy efficiency gains. It offers additional opportunities in hydronic process integration and management as yet either unrecognized or underutilized. Our efforts fall on the latter, particularly when cooperating with "Mother Nature" by employing natural hydronic (gravity) convection to an operational advantage.
Falling back upon and employing the principles of "non-powered" gravity heating we optimized a "contemporary" Delta-T ECM FHW System. Utilizing supply and return iron-piping "stacks" and compacted manifolding minimized distribution head losses. Combine these with the thermal storage capacity of mating to a cast-iron high-mass boiler enables a true, free-standing APPLIANCE. Its profile is contained within the boiler footprint plus about a foot of exhausting & piping space to the rear. Modular construction is a natural for hydronic elements as well as system wiring and controls. Module variations to suit particular site and application requirements logically follow.

Taco® promotes energy reductions of up to 85% and 15% for electricity and fuel respectively by using their Delta-T ECM Circulator Product. We emphatically agree ….. and even more! Measurements on our multiple "Beta Sites" indicated a deviation that was not anticipated. Namely, upon the dedicated VT2218 system circulator achieving preset "delta-t" and stabilizing, the wattage displayed further deteriorated to approximately half this value along with some further speed reduction! A subsequent "Beta Site" circulator failure confirmed our suspicions. First, that failure event was not noticed for an estimated 2-3 days, and then only with a gradual decay in house temperature. The event was camouflaged by an integral Indirect Water Heater (IWH) based domestic hot water (DHW) delivery that was never affected!
The circulator failure not only quantified the now measurable convection (gravity) heating effect witnessed, but qualified our overall near-boiler piping configuration, purposely designed with a de facto priority circuit for the IWH Option. The latter eliminates the need for that particular optional control feature. Further witnessed on our "Beta" circulator failure was boiler temperature operating near maximum. The Hydrolevel 3250+ Aquastat on the Weil-McLain UO logically increments boiler supply temperature to satisfy zone(s) demands. The higher supply/return temperatures and differentials further enhanced convection. The effective 700 pound plus thermal storage mass of our "appliance" also served to dampen the close-coupled IWH zone demands! It is reasonable to presume that the IWH thermal storage would also be "pumped down" during a burner failure, passively prolonging thermal decay.
Radiation configuration and piping integrity are paramount to convection (gravity) heating effectiveness however. Drawing from over 40 years operation of our personal dual-fuel, fully no-power emergency capable hydronic heating system, we can attest to radiation attribute importance. Simple, well designed serial and split baseboard loops work best. De-aeration is absolutely necessary and system water pressure must be present. Taco Zone Sentry Valves utilized in our design have a manual open-close feature that can be utilized to regain a heating level upon an actuator failure, as do current flow check valves. (NOTE: You can replace a failed Taco® actuator head on our appliance in 20 seconds – if ever a need!)
Complimenting hydronic performance is our Patented "Compact Steel Hydronic Header" that positions, orients and provides flexibility in both zone and return valve mounting with expansion capability. Placing Taco® Zone Sentries at their minimum (2-3/4″) spacing with wired harnessing eliminates the need of a significant valve or circulator relay expense ….. and with greater diagnostic and system functionality!
Currently applying our manufacturing process expertise we are projecting the "economies of scale" provided in our construction. The physical modules of boiler, supply and return are configured for capacity/fuel and zone complement and inventoried. A natural and complimentary option of an Indirect Water Heater (IWH) for domestic hot water (DHW) generation falls into this methodology as well. Adding assembly fixtures, applied tools, wiring assy's, etc. further contribute to appliance value.

A Hydronic Heating "Appliance" changes everything. The historical loose-piece "process" of hydronic (FHW) installation now becomes a "product" installation of lesser content with higher, predictable system performance and costs. Not just having a stock product that readily configures to the specific requirement, but being available on demand to fulfill both routine and seasonal emergency failures is a valuable resource indeed. Appliance costs and performance are also guaranteed, with all components warranted by their U.S. Manufacturer(s) as with any contemporary installation.
Our Motto: "SIMPLE, DURABLE, EFFICIENT FHW HEATING ….. PERIOD!" sums it all up. Technology has finally caught up with hydronic heating, and it's about time! The end game after all is providing real value to the consumer, is it not?
Author's Note: Updated 01/20/2018